Setting and Adjusting U.S. Patent Fees during Fiscal 2020
Categories:

News
Date:2020-09-01
Setting and Adjusting U.S. Patent Fees during Fiscal 2020
Time of issue:

2020-09-01 16:13

Views: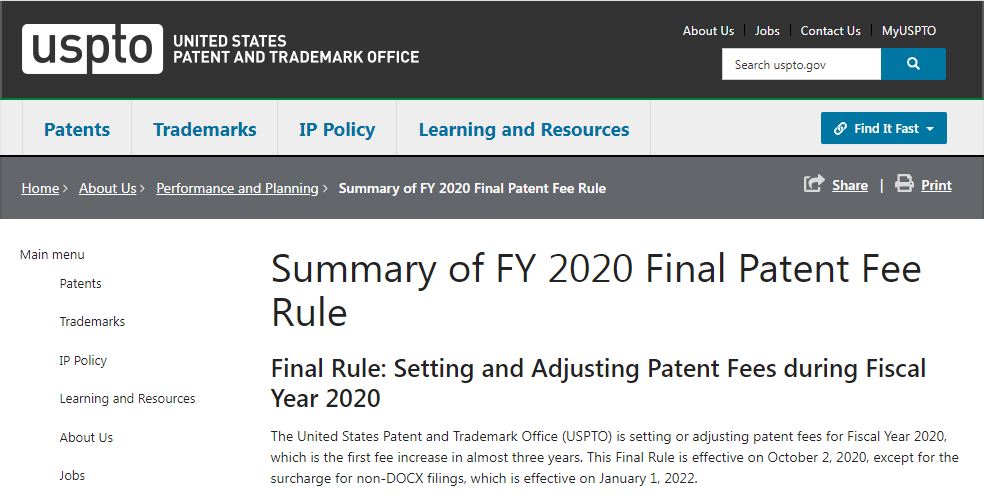 On August 3, 2020, the United States Patent and Trademark Office (Office or USPTO) issued a Final Rule to set or increase certain patent fees as authorized by the AIA, as amended by the SUCCESS Act, which is the first fee increase in almost three years. This Final Rule is effective on October 2, 2020.
Most of the patent official fees have been fine-tuned within 10%, while a small part of the fees have been adjusted significantly. For example, the utility issue fee has been increased to 20%, the patent maintenance fee due at 3.5 years has been increased to 25%, and the surcharge for late payment of maintenance fee has been increased to 213%, etc.
Besides, the USPTO decieded to add the surcharge for non-docx format document filling during this fee adjustment, and this fee change will not take effect until January 1, 2022.
In additions, the USPTO discontinued few patent fees such as the fee for each claim in excess of 20 and etc.
The new patent fee rule will be applied for any payment paid on and after October 2, 2020. Considering the specific situation, Applicants can try to pay relevant fees before October 2, 2020 to save costs.
The partially adjusted fee standards are as follows (the following fees are subject to the large entity fee standards):
Fee Description

Old Fee Standard

(currency:USD)

New Fee Standard

(currency:USD)

Basic National Stage Fee

300

320

National Stage Search Fee - Search Report Prepared and Provided to USPTO

520

540

National Stage Examination Fee

760

800

Surcharge - Non-DOCX Filing

n/a

400

Utility Search Fee

1000

1200

For Maintaining an Original or Any Reissue Patent, Due at 3.5 years

1600

2000

For Maintaining an Original or Any Reissue Patent, Due at 7.5 years

3600

3760

For Maintaining an Original or Any Reissue Patent, Due at 11.5 years

7400

7700

Surcharge - maintaining - Late Payment Within 6 Months

160

500
News source: USPTO
https://www.uspto.gov/about-us/performance-and-planning/summary-fy-2020-final-patent-fee-rule
Back to list